October 18, 2020
5 Innovative Ways to Showcase Your Nonprofit's Impact on Your Website
"Show your impact" – a daunting task that so many in the nonprofit space have come to dread. Yet, no matter how difficult it is, measuring and communicating effectiveness in your marketing is a critical objective for nonprofits around the world.
Donors are increasingly spending their dollars, time, and attention on organizations that can provide convincing evidence of their impact, and they're looking for this information online. Good faith and good intentions alone do not equal effective web design for nonprofits, and are certainly not enough for people to support a cause – as worthy as it may be. Rather, they want to see how their backing brings about results.
How developing a "Theory of Change" can help you measure your nonprofit's impact
A common approach to thinking about nonprofit impact is the Theory of Change model. While exact definitions vary, the most simple approach can be broken down into 5 components: Inputs, Activities, Outputs, Outcomes, and Impact.
The model outlines the daily activities of your organization and helps your team draw clear connections to your overall mission or long-term goal, making it a critical first step.
Once you've documented your Theory of Change, it's important to show off your immediate outcomes and long-term impact in a way that resonates with your audience of supporters. The more effort you put into clearly articulating your impact on the web, the better your audience will understand what you're working on and what it will take to achieve your goals. And remember, you only get one chance for a good first impression online.
5 Ways to Show Your Impact Online
1. Consider Your Navigation
Where does information on your impact live on your website? The progress that you're making towards your long-term objective should be made just as clear as your organization's purpose itself. Dedicate a page of your site specifically for documenting your impact, and elevate it to a primary navigation item if possible.
2. Develop an Interactive Map
When feasible, and if designed well, an interactive map can cleverly display impact while simultaneously communicating your organization's local or global reach. The average web user is increasingly familiar with location-based experiences and will be comfortable panning and zooming to explore your organization's impact information in a more interactive form. Check out our work with National Philanthropic Trust for an example.
3. Leverage User-Generated Content
A joint study from Crowdtap and Ipsos found that Millennials are not only more likely to trust user-generated content, but they find it to be more memorable. Unsurprisingly, the study also found that this demographic is more likely to engage with user-generated content than TV on a daily basis.
In recent months, Facebook birthday campaigns have garnered significant press in the nonprofit world for their participatory nature – but there are many more opportunities to benefit from user-generated content beyond Facebook. Consumer brands have long known the value of contests, hashtag campaigns, and customer stories. When these strategies are deployed in cause marketing, the potential for emotional connection grows exponentially.
4. Create an Engaging Infographic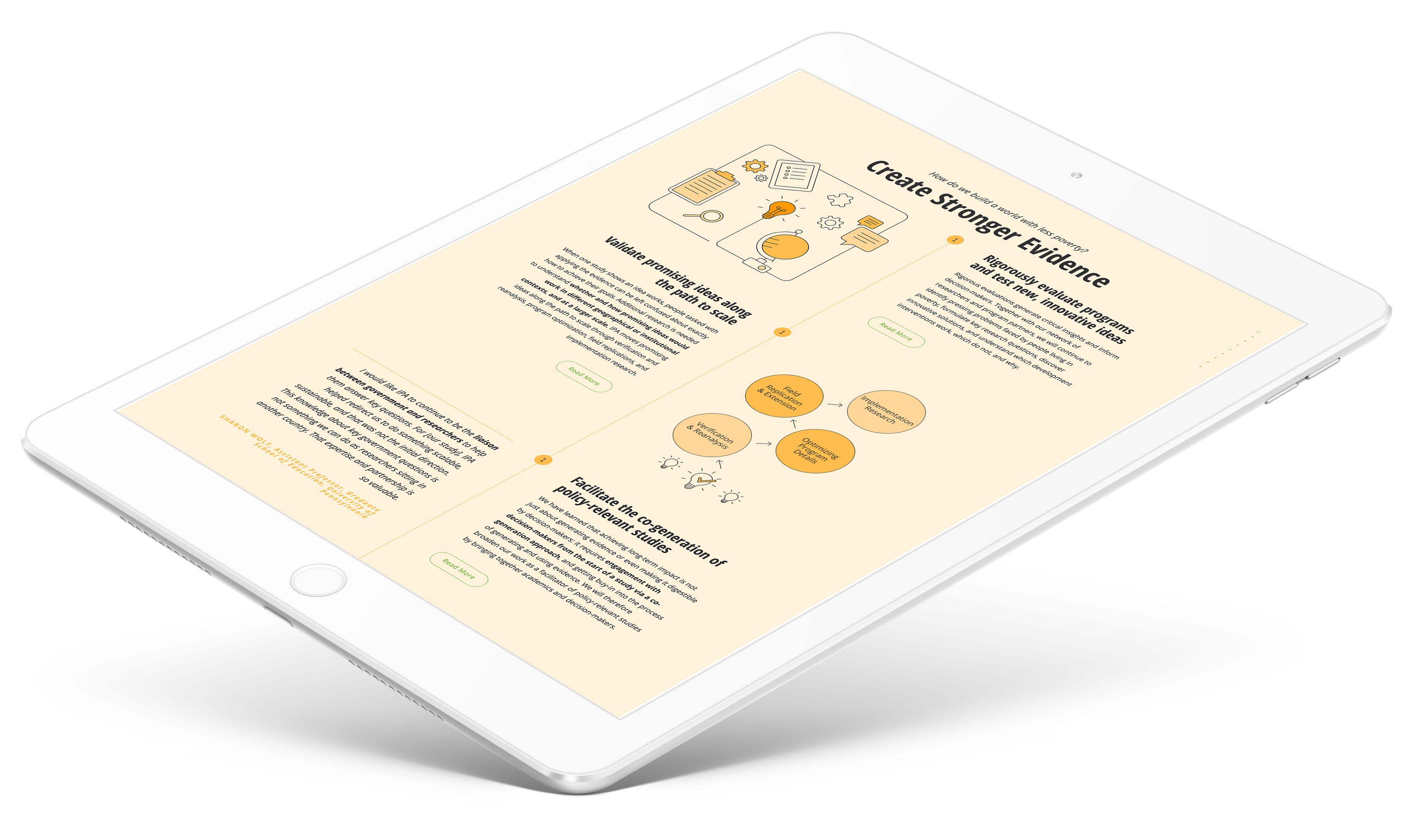 Infographics have long been touted as the gold standard for communicating impact, and their value continues to grow. A visual interpretation of your organization's outcomes can be far more powerful than a paragraph of text. When it comes to the web, this couldn't be more true. Users are busy. They're usually looking for specific information and will continue to surf until they find that information in the most accessible way possible.
Digital practitioners continue to monitor their web users and the data is clear – users rarely read web pages word for word. As a result, web pages have to employ scannable text and compelling visuals. Infographics represent the best of both worlds.
5. Audio & Video Content Are King
Audio content has exploded in recent years in the form of podcasts. As of April 2020, almost 40% of the US population had listened to a podcast in the past month, with 24% listening weekly. Fortunately, you don't need to create an original podcast in order to share your impact with this audience. Many podcasters regularly host guests or organizations that are relevant to their topic.
Video as a marketing tool is not new, but it's still one of our most compelling storytelling opportunities in web design today. Well deployed video can help connect new people to your cause as well as keep current and past supporters up to date on the outcomes and impact of your work. While website case studies are a natural fit, video can also be employed to thank supporters, highlight partners, and showcase staff.
Original video content can help increase engagement on your organization's website, but it should also be cataloged and archived on YouTube. YouTube processes more than 3 billion searches a month, which means it has become the 2nd largest search engine on the internet. Millions of daily users can organically discover and watch your content through this platform.
(Bonus) Utilize the Google Grant
The more frequently your organization appears in Google search results, the more people will be aware of your impact. If you're a qualifying nonprofit, Google offers $10,000 in monthly Google advertising funds. All you have to do is apply for the grant!
The more consistently you showcase your impact, the more often you'll give the impression that your organization is achieving results and making a measurable difference. Choosing the right tools and techniques to tell this impact story online will help generate enthusiasm and a sense of progress that people can truly rally behind.
---
Need to better tell your nonprofit's story online?